I finally got around to publishing a number of photo albums related to Ceph events that I attended in the past few months:
Ceph Day Darmstadt, DE, 2018-02-07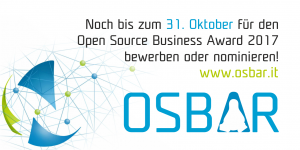 Der Open Source Business Award, kurz OSBAR, ist der Innovationspreis des Open Source Business Alliance Vereins. Auch in diesem Jahr werden wieder innovative und interessante Open Source-Projekte gesucht, die sich für diesen Preis bewerben wollen.
Ich freue mich sehr, dieses Jahr Teil der Jury zu sein und bin schon sehr auf die Einreichungen gespannt. Am 16.11. findet in Berlin der Open Source Day (ODS) der OSB Alliance statt; dort können die Bewerber ihr Projekt persönlich vorstellen. Anschließend läuft die Bewertung der Einreichungen. Am 6.12. werden dann im Rahmen der OPEN-Konferenz in Stuttgart die Gewinner bekannt gegeben.
Die Teilnahme ist sehr einfach und ist eine tolle Gelegenheit, den Bekanntheitsgrad eines Projekts zu steigern. In diesem Sinne: mitmachen, man kann nur gewinnen!