Here's another Ceph Manager Dashboard screencast, showcasing how the dashboard displays and reacts to ongoing changes in the Ceph cluster, e.g. when OSDs go down. Enjoy!
I created a short overview screencast of the Ceph Manager Dashboard, to give you an impression of what to expect in the upcoming Nautilus release. Enjoy!
Last weekend, I traveled to the beautiful city of Brno in the Czech Republic, to attend at speak at the DevConf.CZ open source conference. I had submitted a talk about our ongoing work on the Ceph Manager Dashboard and was very happy that it got accepted, as I haven't been to a DevConf before.
The conference took place in the lecture halls of the Faculty of Information Technology at Brno University of Technology, which provided a very nice venue with lots of rooms and infrastructure (the WiFi was a tad bit slow, but usable). Still, some talks were so popular that the rooms were full and the session chairs had to block others from entering (something that other conferences like FOSDEM also suffer from). Fortunately, many of the sessions were recorded, so there is an opportunity to watch them later.
The overall organization of the conference was excellent, the organizers had really thought of everything and it was a pleasure to attend this event from a speaker/participant point of view. There was a cloak room, badges that clearly indicated your preference of being photographed or your preferred level of engagement in conversations with other attendees. Food was also available in good variety (both free and several paid-for additional options provided by food trucks). The organizers had also set up a group chat on Telegram, which was used to spread information to all participants quickly.
My talk Ceph Management and Monitoring with the Dashboard was scheduled for Saturday, 16:00, so I had some time to attend other sessions before and afterwards.
The session schedule was packed and I had a tough time to choose which ones to attend. I ended up with attending the following sessions:
Unfortunately I could only attend the conference on Saturday, as I was traveling to and back from the event by train on Friday and Sunday. I wished I could have stayed for more! I will definitely plan to go back there some time.
I took a few pictures during the event, which can be found on Flickr :
More pictures can also be found here and here.
In summary, I had a great time at DevConf.CZ and I can only highly recommend to plan on attending it if you get a chance!
I finally got around to publishing a number of photo albums related to Ceph events that I attended in the past few months:
Ceph Day Darmstadt, DE, 2018-02-07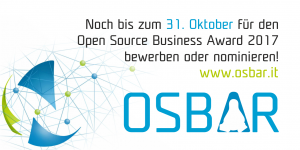 Der Open Source Business Award, kurz OSBAR, ist der Innovationspreis des Open Source Business Alliance Vereins. Auch in diesem Jahr werden wieder innovative und interessante Open Source-Projekte gesucht, die sich für diesen Preis bewerben wollen.
Ich freue mich sehr, dieses Jahr Teil der Jury zu sein und bin schon sehr auf die Einreichungen gespannt. Am 16.11. findet in Berlin der Open Source Day (ODS) der OSB Alliance statt; dort können die Bewerber ihr Projekt persönlich vorstellen. Anschließend läuft die Bewertung der Einreichungen. Am 6.12. werden dann im Rahmen der OPEN-Konferenz in Stuttgart die Gewinner bekannt gegeben.
Die Teilnahme ist sehr einfach und ist eine tolle Gelegenheit, den Bekanntheitsgrad eines Projekts zu steigern. In diesem Sinne: mitmachen, man kann nur gewinnen!
I never thought I'd ever say this, but I must admit that I have become quite a fan of Microsoft's Visual Studio Code IDE, which is available for a wide range of platforms, including Linux.
However, the installation user experience was still somewhat arcane – one had to manually download the RPM package from their web site to install the software. Once a new version was available, the user receives a notification within the application, which redirects him to the website for downloading and updating the latest RPM manually again.
Therefore it didn't take long for the community to request the creation of a dedicated yum repository, to keep the package updated automatically.
This issue has now been resolved: a yum repo has now been created. Until github issue 20895 has been fixed, this still requires setting up the required repository configuration manually though, but hopefully this will be addressed soon as well.
Until then, here's how to enable the yum repo on Fedora Linux (Fedora 25 in my case):
Create a file /etc/yum.repos.d/vscode.repo with the following content:
[code]
name=Visual Studio Code
baseurl=https://packages.microsoft.com/yumrepos/vscode
enabled=1
gpgcheck=1
gpgkey=https://packages.microsoft.com/keys/microsoft.asc

Now you can install the package with the following command:
$ sudo dnf install code

Upon the first run, you will be requested to import the GPG build key used for signing the package.
Once a new updates becomes available, running dnf update will pull and install the updated package automatically.
Thanks to the developers at Microsoft for making this step much easier now!
I've been struggling with this for quite some time now, but I finally figured out how to enable scroll wheel emulation for the Logitech Trackman Marble on Fedora Linux 24.
Previously (when I was using Ubuntu Linux), I had a small shell script that defined the required xinput properties. However, this did not work on Fedora, as they use the new libinput framework.
With the change to the libinput subsystem, you can now enable this behavior by creating a file /etc/X11/xorg.conf.d/10-libinput.conf with the following content:
Section "InputClass"
 Identifier "Marble Mouse"
 MatchProduct "Logitech USB Trackball"
 Driver "libinput"
 Option "ScrollMethod" "button"
 Option "ScrollButton" "8"
 EndSection
Magically, this function got enabled as soon as I saved the file, without even having to restart X! I'm impressed.
A while ago, I concluded my first year in the openATTIC-Team at it-novum. We've gone through a lot of changes and I am quite proud of what we've achieved so far. In many ways, we're starting this project and product from scratch, and I'm excited to be able to contribute to this effort with my experience from past jobs, and to help shaping the future direction. I feel grateful for having a very enthusiastic and supportive team. It's also quite satisfying to observe how the seeds that we planted slowly come to fruition, as the project begins to gain traction with a growing user base and developer community.
For more details on some of the key highlights, please see my blog post on the openATTIC blog.
The openATTIC project is currently transitioning to adapting the patch contribution signoff process initially established by the Linux Kernel developers, in which every commit message is "signed" with a special Signed-off-by: tag line, that certifies that the patch contribution meets certain criteria with regards to ownership/copyright and licensing.
The git distributed revision control system (DVCS) used by the Linux Kernel and many other projects actually provides an option --sign that can be passed to the git commit command, which will add the Signed-off-by: line at the end of the commit log message automatically.
However, the openATTIC code base is managed using the Mercurial DVCS, which currently does not offer the same functionality out of the box. Fortunately, Mercurial is written in Python and is very extensible: it is possible to extend its functionality and modify the workflows via Hooks and Extensions.
Much to my surprise, I was not able to find an existing plugin or extension that provides this functionality. So I took this opportunity to hone my Python skills and wrote one myself – signoff.py is a simple Mercurial hook, that will automatically add the signoff tag line below the commit message. Currently it is pretty rudimentary, I still need to read up on how to convert it into a proper Mercurial extension that extends the existing hg commit command, so the signoff process can be enabled by passing it as an option.
To enable it, dowmload the file and save it as signoff.py into the .hg directory of your Mercurial repository and add the following to .hg/hgrc:
[hooks]
precommit = python:.hg/signoff.py:sign_commit_message
If you have any suggestions or ideas on how to improve it, please let me know!